What makes a true espresso?
The Italian Espresso National Institute has very strict standards as to what can be called a true espresso. However, the basic idea is this: Espresso machines force a small amount of nearly boiling water under at least 9 bar of pressure through finely ground coffee to make true espresso.
The result is a thicker, creamier coffee with more caffeine inside. Pressure seems to be the key defining metric of making real espresso, and that's why stovetop espresso machines don't produce "real" espresso, according to the experts ( but we still highly recommend them for anyone on a budget).
What kind of espresso machines are there?
There are two kinds of espresso machines in this world: steam-driven and pump-driven. Steam-driven machines come in two types: stovetop espresso makers like the Bialetti Moka Express and pump-less electric machines.
Pump-driven machines are much more common and there are more varieties that fall under that umbrella, according to CoffeLounge.
Manual Lever Pump: It works just like you'd imagine it would — you manually pump the espresso out by hand with no help from electricity.
Electronic Pump: With this kind of machine, you set the right temperature and electricity pumps the espresso out for you.
Semi-Automatic Pump: Here, you'll grind the beans and tamp them into the filter before turning on the machine. Then, you pump the button to turn it on until the water turns black, at which point you turn it off.
Automatic Pump: This machine also makes you grind the beans and tamp them into the portafilter. The machine will automatically turn on to brew the espresso and go off again when it's done.
Super Automatic Pump: Finally, a super automatic machine takes everything out of your hands. It grinds the beans, tamps the grounds into the filter, boils the water, pushes it with lots of pressure, and takes care of the waste for you. It's very easy, but it'll cost you a pretty penny.
There are also fully automatic pod machines like the Nespresso, which require zero assistance from you beyond popping in a pod and pressing a button. All of the machines in this buying guide are either semi-automatic or pod machines.
Best Home Espresso Machine – Breville BES870XL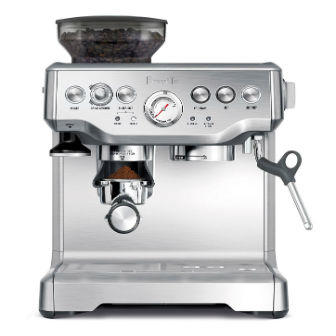 Type – Semi-Automatic
The Breville Barista Express is not for the faint of hearts, or those looking for a $200 semi-automatic espresso machine. This magnificent piece of brewing technology is not made for coffee drinkers, it is made for espresso lovers.
As far as my kitchen goes, the BES870XL is the best-looking appliance there. The circular pressure gauge and stainless steel chassis give this Breville a calm and sophisticated appearance. The burr grinder and large bean hopper are perfectly sized and situated in order to give the Barista a most desired refined look.
When all of these elements are combined with a stainless steel portafilter and handle attachment, this machine can visually send you back through time to your favorite espresso bar. But, does it brew?
You bet it does! The pressure gauge is not masterfully crafted just for aesthetics. It is there to measure whether the internal pump is operating at an optimal pressure range. An essential element to every barista's perfect cup of espresso.
Not being able to maintain a perfect balance between water flow and water temperature is what makes for sour-tasting and bitter flavor. The majority of cheaper espresso machines lack pressure gauges, not because of the added cost to manufacture, but because they are not able to get the perfect balance in performance.
At first, the BES870XL might be a little intimidating to espresso beginners. The wide range of grind settings and ability to use single or double wall filter baskets can be a bit confusing. But, once you get a hold of the programmable features, you will never want to go back to brewing coffee.
The variety of semi-automatic and super-automatic features make the BES870XL the top overall choice for an espresso machine.
Espresso Machine Under $200 – Mr. Coffee Cafe Barista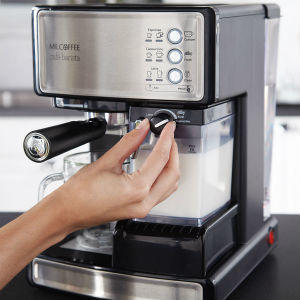 Type: Semi-Automatic
By far, there is no better entry level espresso machine under $200. This in no way means that Mr. Coffee has designed a revolutionary and state of the art machine. Instead, it means that the Café Barista successfully meets our lower standards for delicious espresso.
In terms of performance, this kitchen gadget pulls shots of espresso automatically and readily combines them with freshly frothed milk. These two functions alone will enable you to create café-style coffee drinks with the push of a button.
The special milk reservoir features a built-in wand for steaming that is fridge-friendly and easy to wash. The wand is detachable, so you can effortlessly store your milk in the fridge.
Mr. Coffee is not known for their eye-stunning designs, and this machine makes no exception. Even though it is quite compact (measuring 12.4 inches tall by 10.4 inches wide and 8.9 inches deep), people will likely walk by your kitchen without noticing it.
But then again, taste is more important than looks. If you are a type of person who enjoys frothy cappuccinos, you will certainly enjoy the Café Barista. As long as you are willing and capable to grind your own coffee beans. Or alternatively, just buy them already ground.
What you do not get from this machine, is what you will not get from any other $200 espresso machine. Namely, there is a lack of consistent brewing temperature and pressure. This will cause inconsistency in flavor and density.
Best Espresso Machine Under $100 – Delonghi EC155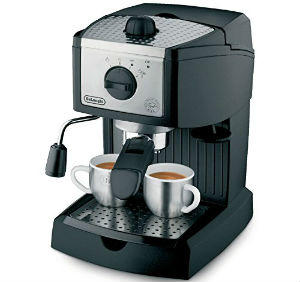 Type: Semi-Automatic
If you are only just getting started on your espresso journey, this is a perfectly fine machine. However, if you have been enjoying barista espressos for a while, this entry-level unit might fall short of your expectations. In other words, this is good for people who are looking to switch from instant or drip coffee to a much stronger brew.
What makes this model good for beginners, is its ability to use both pods and grinds. It also has a dual function filter that is easy to clean and helps in the preparation of smooth cappuccinos. In this sense, it offers a lot of convenience for a machine that costs less than $100.
This is not a fully or super-automatic machine, but it does have a self-priming system that is very easy to use. The indications on the front panel are clear and beginners should have no problem operating the EC155.
There is a built-in tamper that does an okay job, but I recommend getting a new one for a few bucks. It can certainly improve the quality of the brew, so long as you know how to install it without breaking the machine.
The frothing wand is not the strongest and it creates somewhat watery froth. The best workaround for this is to use a smaller frothing pitcher. But, even then this machine will not guarantee a nice and creamy froth.
Considering the cost, this is a 5-star machine.
Top Pick For Espresso Machine With Capsules – Nespresso VertuoLine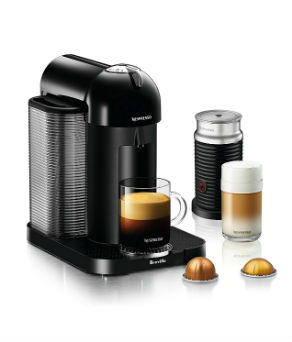 Type: Semi-Automatic
This is Nespresso's first attempt at targeting premium brew and espresso fans.
The streamlined approach to brewing is by far the best that I have witnessed in a single-serve coffee (and espresso) maker. The crema layer that is added to the brew is also considerably better than anything else on the current market (such as the Verismo 580).
VertuoLine's overall designs offer a retro vibe that comes in three colors: black, chrome or red. The machine has a very distinguished 1950's diner character that we at Coffee Dorks really liked.
Because this is a coffee maker as well as an espresso maker, it comes ready to be used with three adjustable cup sizes. The defaults are set at 1.35 ounces for espresso and 7.77 ounces for coffee brewing but are easy to modify through the settings menu.
You can only use Nespresso's capsules, which can be somewhat expensive compared to Keurig and other brands. In addition, you cannot add your own coffee grinds or a filter in order just to heat up water for tea. But, this is the case with most single cup coffee machines on the market.
There is just one button on this machine that controls the entire process. This is simplicity at its best.
The Best Automatic Espresso Machine: Espressione Concierge
The Espressione Concierge replaces last year's winner in the automatic category, the Jura Ena Micro 1, which is just as fast and easy to use. The Espressione has a handy removable water tank, light-up buttons, and built-in burr grinder. Most importantly, it had the clear advantage when it came to taste.
None of the automatic machines we tested could produce a shot that came close texturally or flavor-wise to a semi-automatic, but the coffee from the Jura machine was downright watery. Even when selecting the Jura's stronger brew option, compared side-by-side, the Espressione Concierge pulled better tasting shots that were closer to the full flavor and body of a real espresso.
The Jura Ena Micro 1 is a slightly more attractive machine with its seamless black finish, but it also measures about an inch wider and longer than the Espressione, if space is a concern. Additionally, the Espressione comes with a milk frother while the Jura does not, which can be a deal-breaker for some shoppers.
The Espressione produces a seemingly effortless single, double, or lungo coffee within a few minutes of powering up, exactly what you want in an automatic machine.
Take a Great coffee for and asome waking up in the morning.
Best Home Espresso Machine – Reviews and Buyers Guide