(Last Updated On: September 18, 2022)
In today's post you will find out the Rat love compatibility in Chinese Horoscope.
Discover all the characteristics and everything about the rat, the first animal in the Chinese zodiac.
The Rat is creative, active, insightful, witty, and intelligent.
There is a legend regarding this rat sign, I will tell you about it below: The Jade Emperor said that the order would be decided by whoever arrived first at his party in the celestial palace. The Rat tricked the Ox into giving him a ride. Then, just as they reached the finish line, the Rat jumped and landed ahead of the Ox, becoming first.
The Rat occupies the first position in the Chinese Horoscope. The 12 zodiac animals in Chinese Astrology are, in order: Rat, Ox, Tiger, Rabbit, Dragon, Snake, Horse, Goat, Monkey, Rooster, Dog and Pig.  There are some differences when the rats are male or female.
Read on to learn about their differences and the love compatibility of this Rat sign.
CHARACTERISTICS OF THE MAN IN THE RAT CHINESE HOROSCOPE
Those born in the year of the Rat are intelligent and adapt quickly to different circumstances. They are creative and know how to take advantage of opportunities.
CHARACTERISTICS OF THE WOMAN IN THE RAT OF THE CHINESE HOROSCOPE
Those born in the year of the Rat appreciate order and therefore seek to keep things organized. They are responsible people with the capacity for work. At home, they stand out for being very familiar.
RAT LOVE COMPATIBILITY
RAT AND RAT:
Rats know each other well and can have a stable relationship of friendship. In the field of romance, they are not favored because there is no the mystery they need to maintain long-term relationships. They are a shrewd and calculating couple favored by prosperity and financial wealth.
RAT AND OX:
The Rat is strong, stable, and dependable, willing to take on family responsibilities and earn money to support their family.  The Rat when united with the Ox complements each other and can make a happy couple. They never compete and accept each other in the Rat's cunning and the Ox's slowness.
RAT AND TIGER:
They have many personality traits in common. However, the Rat and Tiger tend to have disagreements frequently and are often dissatisfied with each other. In friendship, they can reach agreements but not in long-term relationships.
"You cannot prevent the bird of sorrow from flying over your head, but you can prevent it from nesting in your scalp."

Chinese proverb
RAT AND RABBIT:
Both have good qualities but are not a perfect match because the rat likes to control and the rabbit does not like to be controlled. Both have excellent qualities, but neither is a perfect pair because they both love themselves too much.
RAT AND DRAGON:
Both are mature, optimistic, and confident. They tend to establish good relationships and achieve mutual support. The Rat and the Dragon are a couple that will form a stable and wealthy family. The strength of both makes it possible for them to be together forever maintaining joy and harmony in the home.
RAT AND SNAKE:
The relationship between the rat and the snake is characterized by jealousy and distrust. In addition, the snake is too mysterious for the rat. Their common characteristic is to be realistic which sooner rather than later they separate because they do not achieve mutual tolerance in couple relationships.
The wise man does not say what he knows, and the fool does not know what he says.

Chinese proverb
RAT AND HORSE:
They are not a good combination for establishing partner relationships. The Rat is a homebody and enjoys being with family while the Horse likes freedom and adventure. The Rat demands the Horse to spend more time in the house and the Horse does not accept rules and orders.
RAT AND GOAT:
Both are pleasant and attractive people but are often frustrated by each other. Remember that the rat is controlling and can sometimes succeed if he meets a calm goat who will allow it. This does not usually happen and is not always long-term.
RAT AND MONKEY:
They tend to have harmonious relationships based on tolerance. They support each other and know how to achieve goals as a team. The few times they have disagreements they know how to find a solution in harmony. It is a perfect long-term relationship because they communicate effectively and with respect.
"Dig the well before you get thirsty."

Chinese Proverb
RAT AND CHICKEN:
They are not the desired partnership although they may have functional relationships for specific purposes. At their core they don't know much about each other; they are not born to be together with robust, strong bonded, loving relationships.
RAT AND DOG:
With the dog, it is easy to live together because of its noble nature. The rat when united with the dog can have a very good long-term relationship although it is not the perfect union. Both are independent, peaceful, and respectful and this helps in understanding. Conflict does not usually appear in the rat and dog scene. And if it does occur, with dialogue and understanding they manage to understand each other.
RAT AND PIG:
They usually make a good couple. Both give importance to family life. They tend to be attracted to each other because of the positive attitude that each one has in essence. There is a saying that goes "what the rat earns the pig knows how to spend". Many rats and pigs have had no problems living together.
THE BEST AND WORST COMPANIONS
The dragon and the monkey are your best companions. However, you should avoid the horse with whom you have antagonism and deep differences.
BEST CAREERS AND TRADES FOR RATS
Lawyer, economist, engineer, architect, politician, banker, businessman, and detective.
HOW TO ESTABLISH RELATIONSHIPS WITH RATS
Be friendly, sensitive, caring, gentle, and romantic.
RATS SHOULD AVOID
Colors: yellow and brown
Numbers: 5, 9
THINGS THAT WILL BRING RATS LUCK
Colors: blue, gold, green
Numbers: 2, 3
Flowers: lily, African violet, and lily of the valley
Lucky directions: southeast, northeast
Wealth directions: southeast, east
Love directions: west
You should also take into consideration which ELEMENT rules your personality.

To know what your element in the Chinese Horoscope is, we recommend you read: The 5 elements of the Chinese Horoscope and how they influence your personality.
 Also learn about the five types of "Rat" according to their Elements and Characteristics
Conclusions of Rat Love Compatibility in Chinese Horoscope
They represent hard-working and fighting people and, therefore, whoever is born in a year ruled by this animal is considered prosperous. The dragon and the monkey are their best companions. And with the horse, you will always have deep differences.

I invite you to Discover your Chinese horoscope and its essential characteristics – 2022


Discover: WHICH MYTHOLOGICAL CREATURE RULES YOU?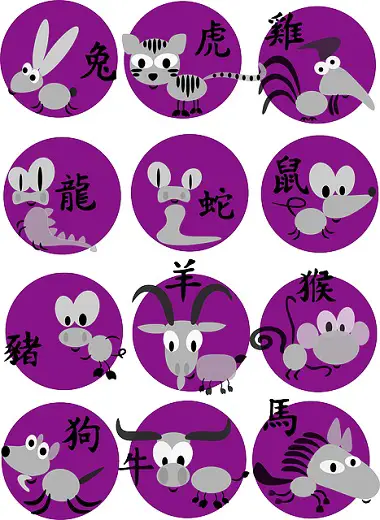 (1) Rat
Born in 1924, 1936, 1948, 1960, 1972, 1984, 1996, 2008 and 2020.
(2) Ox
Born in 1925, 1937, 1949, 1961, 1973, 1985, 1997, 2009 and 2021.
(3) Tiger
Born in 1926, 1938, 1950, 1962, 1974, 1986, 1998, 2010 and 2022.
(4) Rabbit
Born in 1927, 1939, 1951, 1963, 1975, 1987, 1999 and 2011.
(5) Dragon
Born in 1928, 1940, 1952, 1964, 1976, 1988, 2000 and 2012.
(6) Snake
Born in 1929, 1941, 1953, 1965, 1977, 1989, 2001 and 2013.
(7) Horse
Born in 1930, 1942, 1954, 1966, 1978, 1990, 2002 and 2014.
(8) Goat
Born in 1931, 1943, 1955, 1967, 1979, 1991, 2003 and 2015.
(9) Monkey
Born in 1932, 1944, 1956, 1968, 1980, 1992, 2004 and 2016.
(10) Rooster
Born in 1933, 1945, 1957, 1969, 1981, 1993, 2005 and 2017.
(11) Dog
Born in 1934, 1946, 1958, 1970, 1970, 1982, 1994, 2006 and 2018.
(12) Pig
Born in 1935, 1947, 1959, 1971, 1983, 1995, 2007 and 2019.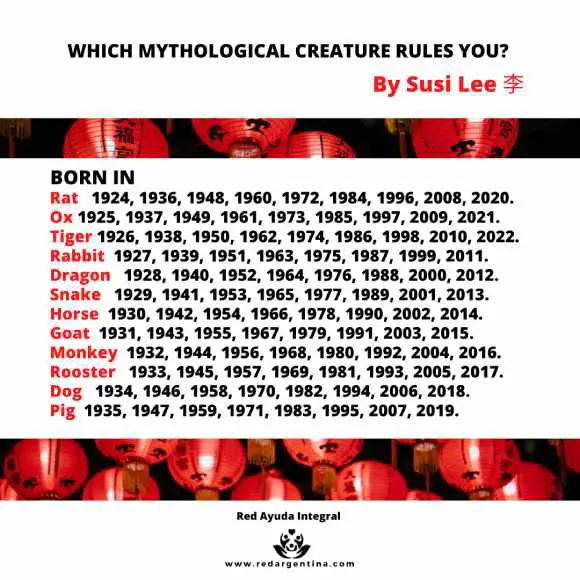 I recommend you to read: Chinese Horoscope And Its Two Faces: Find Out Which One Is Yours