(Last Updated On: June 1, 2022)
Knowing the snake compatibility in the Chinese horoscope is important because they abound everywhere. Their charms and flaws should be known if you want to have a venture, form teams, and even have a partnership.
The Snake occupies the sixth position in the Chinese zodiac or Chinese Astrology. The 12 animals of the zodiac are, in order: Rat, Ox, Tiger, Rabbit, Dragon, Snake, Horse, Goat, Monkey, Rooster, Dog, and Pig.  Snakes are charming, popular, and possess great wisdom. It is noted for its manners, is not noisy, and is considered the master seductress of the Chinese zodiac. It stands out for being introverted and reserved. Although she is sociable and relates well especially when it comes to business. There are some differences when Snakes are male and female.
Read on to learn about the seductive and wise snake.
The Snake Compatibility in the Chinese Horoscope
CHINESE ZODIAC: SNAKE MAN CHARACTERISTICS
They have a strong sense of responsibility.
The snake man is more loving.
He is endowed with wisdom.
His life is full of mystery.
He appreciates classical works of art.
His distrust is great and he does not reveal his true idea.
He has high ideals and does not like to surround himself with idle people.
Her will is firm and she can maintain her position until death.
CHARACTERISTICS OF THE SNAKE WOMAN IN THE CHINESE ZODIAC
The Snake woman is charming, kind, and elegant.
Her appearance is calm, serene, and delicate.
She is always self-confident.
She likes to be fashionable.
She seeks prosperity and wealth.
She appreciates classical works of art.
SNAKE LOVE COMPATIBILITY
SNAKE AND RAT:
The Snake and Rat have a complicated relationship that needs constant nurturing to thrive. Both admire each other. The Snake admires the Rat's shrewd personality, while the Rat appreciates the Snake's keen perception but it is insufficient. If they are to form a romantic bond, they must take into account their different styles. As friends, the Snake and Rat get along best.
SNAKE AND OX:
The Snake and the Ox relate very well. Their characteristics complement each other and allow them to form profitable and lasting bonds. They can form a happy home as long as they manage to communicate their interests and establish clear rules of coexistence. As friends, the Snake and the Ox also establish solid relationships. The Snake chooses its partners carefully, and the Ox is one of the few signs that get it right. These two could form a union that lasts a lifetime.
SNAKE AND TIGER:
The Snake and Tiger will always have conflicts and misunderstandings in romantic relationships. The essence of both repels each other and is full of mistrust that does not allow for bonding. They are very different in love, the Snake prefers slow and sensual love, while the Tiger is frantic. If the Tiger does not satisfy the Snake's needs, the Snake will find satisfaction elsewhere. However, the Snake and the Tiger get along best as friends because they recognize the value they have.
Great souls have wills; weak souls have only desires. Chinese proverb
SNAKE AND RABBIT:
Snake and Rabbit establish nice relationships and become excellent friends and lovers. Sexually, the Snake and the Rabbit get along very well. The Snake has no problem expressing his desires and will help the Rabbit to feel comfortable. Both signs have a fragile ego and need a lot of praise and encouragement to perform well.
SNAKE AND DRAGON:
The Snake and Dragon are a compatible, fruitful, and wonderful union. They are a romantic couple. The Snake secretly adores the dramatic talents of the Dragon, while the Dragon is fascinated by the Snake's air of mystery. Friendship-wise, the Snake and Dragon also get along very well. Sexually, the Snake and Dragon are passionate and understand each other perfectly.
SNAKE AND SNAKE:
Two Snakes form a very satisfying den. Both feel an innate trust in each other. The Snake, normally cautious, feels comfortable on her own. The same is true when it comes to establishing bonds of friendship because they establish good relationships. If they become business partners, they make economic fortunes grow. As far as sex is concerned, a Snake couple finds physical happiness because they enjoy each other's company, and know their desires and instincts well.
All men are wise; some before, others after. Chinese proverb
SNAKE AND HORSE:
The snake and the horse antagonize each other. It is not possible to coincide, they have nothing in common and therefore, they have conflicting, tense, cold, distant, and distant relationships. Their interests are different, the Snake is reserved and the Horse is open. The former likes to stay at home, and the latter likes to go out. As friends, the Snake and the Horse are distant but friendly. The Snake wants a companion who will stay close in good times and bad, but the Horse is too impatient to stay in one place for long. They are so different than the relationship is best left as a friendship.
SNAKE AND GOAT:
The Snake and the Goat make a beautiful pair. The Snake and the Goat admire each other and become romantic. They know how to balance their needs and manage to consolidate as a couple. As friends, Snakes, and Goats get along very well. The Snake loves to relax and the Goat likes to create a relaxed atmosphere for his friend. Neither of them is bent on making the other one work harder. These two are perfectly happy together and won't try to change each other.
SNAKE AND MONKEY:
The Snake and the Monkey have nothing in common in romantic relationships. For friendship, they do much better and even sexually. They can get into trouble because the Snake has a possessive nature with the Monkey and the Monkey does not like control.
It is easier to change the course of a river than the character of a man. Chinese proverb
SNAKE AND ROOSTER:
The Snake and Rooster make a perfect match for love, marriage, and business relationships. They can trust and understand each other very well. They make a highly compatible and successful team. Snakes and Roosters are very sociable but equally at home together, which makes them feel good about being together. As friends, the Snake and Rooster have a pleasant, beautiful, and satisfying relationship.
As for sex, the Rooster will have to be very inventive for the Snake to enjoy and always be interested.
SNAKE AND DOG:
The Snake and the Dog manage to be compatible to a good degree. They are opposites in their way of thinking but can have respectful friendships. Sexually, the Snake and the Dog are not ideal. They are so different that it is best to avoid long periods of living together.
SNAKE AND PIG:
The Snake and the Pig will never be able to relate to or understand each other. Their relationship will always be conflicting. The Snake is very sophisticated and the Pig is very careless.
Although they have common interests, the taste for money and luxury will be insufficient for a healthy coexistence between them. As friends the situation is tense, and there is no way to reach an understanding between them.
THE BEST AND WORST COMPANIONS
The ox, the rooster, and the dragon are your best companions. However, you should avoid the tiger, the horse, and the pig with whom you have nothing in common.
THE BEST CAREERS FOR SNAKES
Scientist, analyst, researcher, painter, potter, jeweler, astrologer, magician, dietician, and sociologist.
HOW TO ESTABLISH RELATIONSHIPS WITH SNAKES
People born in the year of the Snake do not have many friends. It is very difficult to get to know them because they do not expose their feelings. They are careful in choosing their friends. Once people are their friends, a Snake is willing to share their sorrows and joys with them. They always take care of their chosen friends as their greatest treasures.
SNAKES SHOULD AVOID
Unlucky colors: brown, gold, white.
Unlucky numbers: 1, 6 and 7
Unlucky directions: northeast and northwest
Unlucky months: lunar months 3, 9, and 12.
THINGS THAT WILL BRING LUCK TO SNAKES
Lucky numbers: 2, 8, 9 and the numbers containing them (such as 28 and 89)
Lucky days: the 1st and 23rd of the Chinese lunar months.
Lucky colors: black, red, and yellow.
Lucky flowers: orchid and cactus.
Lucky directions: east, west, and southwest.
Lucky months: the 1st, 8th, and 11th of the Chinese lunar months.
Conclusions
The Snake compatibility in the chinese horoscope, will have the best compatibility with animals such as the dragon and the rooster. 
A Snake person should avoid relationships with people like the tiger, horse, and pig.
The Snake's best relationship is with the Ox.
Guide: WHICH MYTHOLOGICAL CREATURE RULES YOU?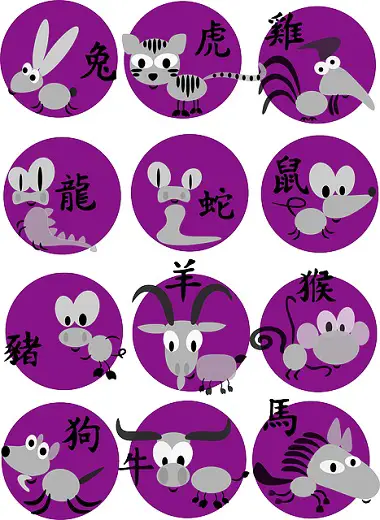 (1) Rat
Born in 1924, 1936, 1948, 1948, 1960, 1972, 1984, 1996, 2008 and 2020.
(2) Ox
Born in 1925, 1937, 1949, 1961, 1973, 1985, 1997, 2009 and 2021.
(3) Tiger
Born in 1926, 1938, 1950, 1962, 1974, 1986, 1998, 2010 and 2022.
(4) Rabbit
Born in 1927, 1939, 1951, 1963, 1975, 1987, 1999 and 2011.
(5) Dragon
Born in 1928, 1940, 1952, 1964, 1976, 1988, 2000 and 2012.
(6) Snake
Born in 1929, 1941, 1953, 1965, 1977, 1989, 2001 and 2013.
(7) Horse
Born in 1930, 1942, 1954, 1966, 1978, 1990, 2002 and 2014.
(8) Goat
Born in 1931, 1943, 1955, 1967, 1979, 1991, 2003 and 2015.
(9) Monkey
Born in 1932, 1944, 1956, 1968, 1980, 1992, 2004 and 2016.
(10) Rooster
Born in 1933, 1945, 1957, 1969, 1981, 1993, 2005 and 2017.
(11) Dog
Born in 1934, 1946, 1958, 1970, 1970, 1982, 1994, 2006 and 2018.
(12) Pig
Born in 1935, 1947, 1959, 1971, 1971, 1983, 1995, 2007 and 2019.

You can also read: Discover your Chinese horoscope and its essential characteristics – 2022