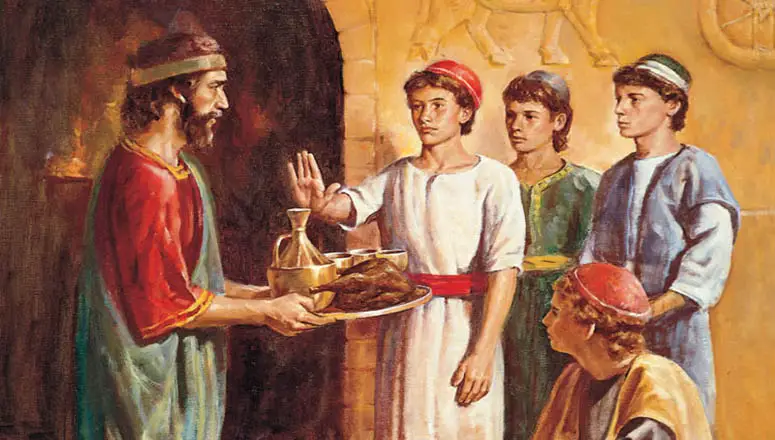 What is pulse in the Bible?.
Known as Daniel Diet, Daniel's Fast is inspired by the 21 days during which the prophet Daniel fed on a minimum amount of vegetables and water. Chris Pratt, the protagonist of Jurassic World, has been responsible for publicizing this curious diet to the mainstream public. Still, the blog The Daniel Fast, created by Susan Gregory twelve years ago, is responsible for modernizing this biblical diet whose purpose is not only to lose weight but to achieve spiritual detoxification. As Susan says, this diet can only include foods grown from seeds.
For 21 days, those who follow this diet can only drink water and will have to exclude meat, dairy products, sugar, yeast bread, and all refined and processed foods from their diet. As the Daniel Fast blog indicates, "neither meat nor animal products are allowed, including but not limited to veal, lamb, fish, and chicken. Nor are dairy products allowed, including but not limited to milk, cheese, butter, and eggs. 
Sweeteners are not allowed, including but not limited to honey, syrups, sugar, cane juice, and molasses. Processed foods are not allowed, including but not limited to artificial flavorings, white rice, flour, and food with preservatives. Fried foods are not allowed, including but not limited to french fries and corn pancakes. The saturated fats like margarine and shortening are not allowed. Drinks that are not allowed include but are not limited to coffee, tea, soft drinks, energy drinks, and alcohol."
Daniel fast breakfast cereal
During Daniel's Fast, you can only drink water and eat vegetables, legumes, seeds, pipes, cereals, fruits, and oils of vegetable origin.
In case you were wondering because after so many restrictions we have already done so, vegetables, legumes, seeds, pipes, cereals, fruits and oils of vegetable origin are the foods allowed in this diet.
But is it healthy?
Richard Bloomer, from the University of Memphis, has carried out various studies to analyze Daniel's Fast. The results indicate that after following this type of diet for three weeks, those who follow its guidelines reduce the risk factors that lead to cardiovascular problems and oxidative stress. He says that this diet is not only very similar to the vegan diet, but he believes that it is healthier by eliminating processed foods. Although this diet does not limit the number of calories ingested, Bloomer thinks that those who follow it end up eating fewer thanks to the satiating power of nutrients and fiber.
"If you think the essential source of protein is in chicken, beef, or seafood, give vegetable options a chance! Vegetable proteins are a very healthy option for anyone. Women need 46 grams of protein daily, and men, 56 grams. Among legumes, beans, nuts, seeds, cereals, and some fruits and vegetables, we can obtain all the necessary proteins without resorting to animals," explains chef Sally Cameron in the book The Daniel Plan 10-Day Meal Plan.
"If you have health problems, contact your doctor before embarking on any fast, including Daniel's," warns The Daniel Fast blog. However, Business Inside includes Daniel's Fast in his list of dangerous diets by ensuring that he lacks a scientific basis.
An example of a day in Daniel's Fast
Breakfast: oat flakes with cinnamon, blueberries, almonds, and fruit smoothie.
Food: a bowl of brown rice with beans, corn, and coriander.
Dinner: lentil paste with olive oil, garlic, parsley, and roasted pepper soup.
Snacks: nuts, popcorn, apple, hummus, or peanut butter.
What is Daniel's Diet
In the chapter of Daniel 1, it is stated that the prophet only ate fruits, vegetables, and ingested water as a liquid, thus renouncing all other foods.
Later in Daniel 10, it is explained that he did not eat meat, bread, and stopped drinking wine during those 21 days, with great effort.
Incredibly this fast, made to please God and obtain his mercy, has managed to reach our days, and there are many men and women of all ages who practice it, both religious and not.
What foods are allowed in Daniel's Diet?
Whole Grains: rice, oatmeal, barley
Legumes: Of all kinds
Fruits: Any fruits
Vegetables: Of any variety
Liquids: Natural water, 100% natural fruit and vegetable juices
This partial fast is planned to be followed for 21 days. Some of those who have followed his claim to have had several symptoms of detoxification, such as headache, digestive discomfort, or dizziness. However, it does not happen in all cases, and after the first few days, they usually disappear.
The conclusion we draw from Daniel's fast is that, since time immemorial, fasting has been practiced by multiple generations as a method to heal and purify body and soul.
Intermittent Fast vs. Daniel Fast
It is not about comparing a fast with another since each one follows his method. However, the strong point of Intermittent Fasting is that its practice involves more than a fast of a few days. Instead, it pretends to be a way of life, of eating, of learning to feed, of listening to our body and giving it what it asks of us without counting calories, forbidding food, or making endless daily meals without appetite.
Many will ask, but if I can eat everything without depriving myself of anything
Where is the trick to lose weight?
Well, there is not much mystery. The key lies, as has always been said, in spending more calories than we eat in a day.
And for that, it is necessary to go hungry?
No, respect the digestive rest times and enjoy the feeding moments.
The Intermittent Fasting has the mission of preserving an optimal state of physical and psychic health and thereby achieving the right weight for each constitution and metabolism.
To do this, it proposes a series of plans that each one can adapt according to their preferences and lifestyle, in which they must respect certain fasting hours that can be, 14, 16, 20 or up to 24 hours maximum, in which you should not eat any solid food. However, drinks such as water, infusions, coffee without sugar, are allowed. Subsequently, the feeding period will come when you can eat what you want without eliminating any food from the diet. Fats and carbohydrates are allowed.
Although it does not exclude any food during the feeding phase, logically and taking into account that we are facing a method that aims to preserve and optimize health, it is preferable to opt for natural, healthy and free foods from hydrogenated fats, such as pastries, industrial products or processed. But, although one must indeed eat healthy 80% of the time, there is also time for those whims that one cannot go through.
All this, accompanied by a routine of physical exercise, will lead you to become a new person, aware of your nutrition, and brimming with vitality.