Essential oil for gingivitis. Treatment of tooth decay, gingivitis and cavities with essential oil: Gingivitis is an inflammation of the gums caused by bacteria. Bacteria infiltrate and destroy the bone at the root level of the tooth. The last stage is called periodontal disease. This is one of the leading causes of tooth loss for the entire population and the leading cause in the elderly. 
Typical bacterial gingivitis is usually a painless condition, even if the gums are bleeding. They become bright red and swollen, less firm than usual, and sometimes move. They are likely to bleed while brushing and possibly with meals. Sometimes they bleed at night.
Gingivitis Liquid essential oil is used to cure gum disease caused by bacteria
In the case of gingivitis, essential oils are mainly used to treat:
gingivitis
inflammation of the gums
Traditionally Used For
– gingivitis, inflammation of the gums
Composition
Preparation of essential oils against gum disease for 5 ml:
The essential oil of Laurus Nobilis 1 drop
Eugenia Caryophyllata essential oil one drop
The essential oil of Mirte Communis 1 drop
Lavender officinal essential oil (Lavandula officinalis) 1 drop
The essential oil of Cistus Ladaniferus 1 drop
St. John's wort vegetable oil three drops
Vegetable oil from calendula three drops
Dosage
Massage the gums and injured areas of the mouth with this mixture 3 to 4 times a day, with the fingertip until full improvement.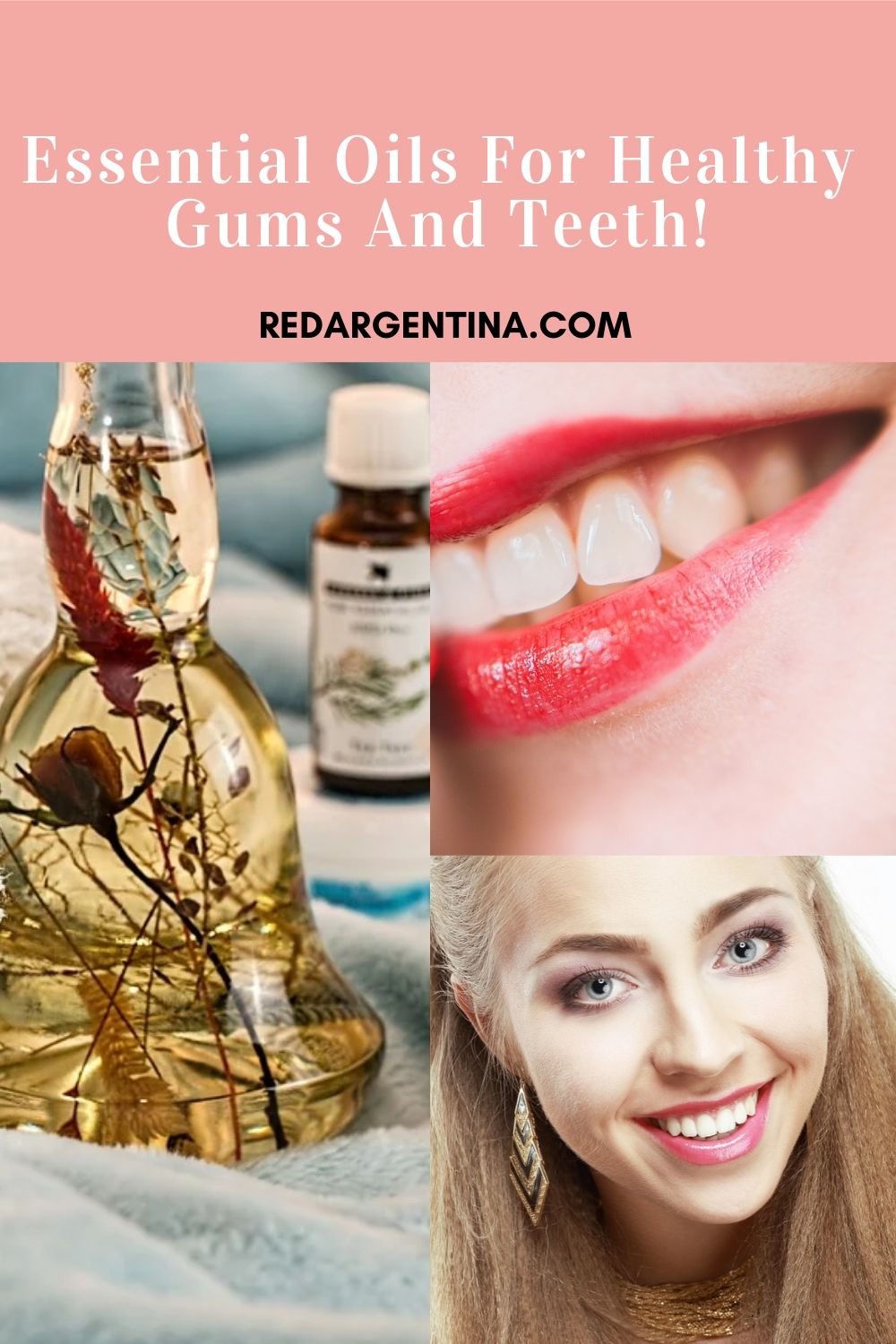 Precaution Of Use
Formula for adults and children from 12 years old.
Source Of Preparation Of Essential Oils Against Liquid Gingivitis
My Bible of Essential Oils Formula, Complete Aromatherapy Guide. Ed Leduc, Danièle Aroma, P315.
Warning
Essential oils are endowed with impressive reactive power. Therefore strictly observe the prescribed dosages; they are the result of the long experience of the researcher. An excess would yield nothing therapeutically, but on the contrary, could cause unwanted effects.
The preparation of essential oils against gingivitis in liquid should be used with care :
what is appropriate for one type of gingivitis is not necessarily suitable for another pathology, as one can treat gingivitis on mucous membranes already sensitized by burns or tingling.
what is appropriate for a person in excellent health is not suitable for other types of patients, including:

pregnant women,
young children,
immunocompromised people,
seriously ill people, etc.
Current study: same efficacy in mouthwashes with or without alcohol with essential oils
A current study compares the effectiveness of mouthwashes with or without alcohol with essential oils (Listerine®) over 6 months. In addition to mechanical dental cleaning, both types of mouthwash can help fight bacteria to control gingivitis and gum bleeding. [I] Therefore, patients who prefer not to use alcoholic mouthwashes can still benefit from Listerine mouthwashes' prophylactic benefits with essential oils. This is written by supplier Johnson & Johnson Consumer BV in a press release to Carnality.
Alcohol has always been an important adjuvant in the production of cosmetics and medicines containing vegetable components (eg, essential oils). However, some patients prefer not to use alcohol preparations or prefer a softer taste and prefer equally effective alcohol-free alternatives. That is why the Listerine range has variants without alcohol – with the same effectiveness.
Rinsing with a combination of hydrogen peroxide and chlorhexidine for three weeks reduces plaque and gingivitis. Also, rinsing with essential oils in a fixed formula seems to be an effective alternative to chlorhexidine to combat gingivitis. Dr. Martijn Leeuwen drew these conclusions from his doctoral research. He evaluated various aspects of daily oral care and the extent to which they can contribute to the reduction of dental plaque and gingivitis.
First of all, the analyzes showed that to replace a toothbrush, the degree of brush wear is more important than the brush's recommended service life. The degree of wear varied between the participants but was fairly consistent for each participant. Participants with severe brush wear also showed higher plaque scores when handing in the brush.
Also, rinsing with a combination of hydrogen peroxide and chlorhexidine for three weeks, reduces dental plaque and gum disease, in contrast to a one-time oral hygiene instruction or a single professional dental cleaning. Four months after rinsing was stopped, plaque and gingivitis were back to the beginning of the study in all participants.
The use of chlorhexidine also has disadvantages in long-term use, including taste change and brown/black discoloration of the teeth and mucous membranes. Through a systematic literature search, Dr. Leeuwen looked at flushing agents containing essential oils that are dissolved in alcohol (such as Listerine) and have fewer side effects. This showed that chlorhexidine was significantly more effective than Listerine at preventing plaque accumulation. 
It is suggested that not only essential oils but also alcohol as a solvent contributes to the flushing agent's positive effect. A rinse aid containing only alcohol does not contribute to the reduction of plaque and gingivitis. If one does not want to use alcohol mouthwash for various reasons, rinsing twice daily with 0.07% cetylpyridinium chloride mouthwash reduces plaque accumulation.
Is a mouthwash with essential oils effective?
Mouthwashes containing essential oils, such as Listerine and Odol, have an antiseptic and antimicrobial effect of inhibiting biofilm formation and providing fresh breath. Essential oils include thymol, eucalyptol, menthol, and methyl salicylate.
But how effective are these essential oil mouthwashes? And is a mouthwash with essential oils and alcohol harmful to oral health?.
Plaque decrease
Several studies have been published that have examined the effectiveness of essential oil mouthwash in reducing plaque and gingivitis. From 2 systematic reviews with meta-analyses, it appeared that after six months, the use of mouthwash combined with mechanical cleaning resulted in an average more significant decrease in plaque and gingivitis than mechanical cleaning alone. 
Another meta-analysis also showed that essential oil mouthwashes caused significantly more significant plaque reduction than a placebo rinse. Even on interdental surfaces, the reduction was more significant when using such a mouthwash compared to flossing.
Difference mouthwash with and without alcohol
Alcohol is often present as a constituent in mouthwashes containing essential oils. Alcohol is added as a solvent and preservative to mouthwashes, but also to activate certain other ingredients and enhance the taste. A systematic review showed that adding alcohol in mouthwash with essential oils did not increase the rinse aid [6].
A recent clinical randomized trial (2019), examining Listerine Cool Mint and Listerine Zero for six months, concluded that there was a significant similar decrease in plaque, gingivitis, and gingival bleeding when using these two flushes. This study also found a slightly clinically relevant difference in a more substantial reduction in plaque when using these flushes than subjects who brushed alone and did not use a flush. More independent research is needed into the long-term effect of both flushing agents.
Alcohol harmless in mouthwashes
In the Netherlands, some oral health professionals are reluctant to advise mouthwashes containing essential oils because the rinse aid contains alcohol and, therefore, the potential risk of developing oral cancer. However, research shows that this fear of this risk is not necessary.
A meta-analysis of several epidemiological studies showed no increased risk and significance associations for oral cancer with daily use of mouthwashes containing alcohol.
Mouthwashes with essential oils can, therefore, be safely advised and make an indispensable contribution for daily oral care and oral health.
References:
Effects of mouthwashes with essential oils with or without alcohol on plaque and gingivitis
A current randomized and controlled clinical study investigated the efficacy of mouthwashes with or without alcohol with essential oils to control gingivitis. 1. (…)
[i] The effects of essential oil mouthrinses with or without alcohol on plaque and gingivitis: a randomized controlled clinical study. BMC Oral Health 2018.18: 6.
Essential Oils For Healthy Gums and Teeth!