Sneakers may be 'utensils', but we prefer to keep them as beautiful as when they just come out of the box. But how do you do that, keep your sneakers nice and wear them at the same time? Can you go out for an evening on your favorite sneakers without having to put them in the garbage? We sorted it out.
Washing sneakers
You shouldn't do it too often, but washing sneakers in the washing machine is sometimes the solution of your 'trampled' shoes! From All Stars to Adidas Stan Smith , if you wash them properly, it won't hurt. Sneakers that you should not put in the washing machine? Sneakers with elastic at the top like the Nike Flyknits , the heat shrinks the elastic. Do you want to know for sure if your shoes can be washed? Google is your friend! It is better not to put running shoes in the washing machine, because of this the quality of the sole can decrease and that is precisely so important with running shoes.
Sneakers wash step system:
We already said it, as long as you wash your shoes properly . We have made a step-by-step plan for you to put sneakers in the washing machine.
1. Remove the laces from your shoes and remove the largest pieces of mud and other dirt. Are there pebbles between the grooves in your sole? Then remove it with a skewer before putting your sneakers in the washing machine.
2. Put your sneakers in the washing machine and the laces in a pillowcase and then put everything in the washing machine. Set your washing machine so that the water does not get too hot (preferably not warmer than 30 degrees) and with a speed that is not too high, this way your sneakers will stay the best. Add a little detergent, but definitely NOT a fabric softener. 
3. Remove the sneakers from the washing machine immediately after washing and place them in a dry place. Do not place them on the heating or in the sun, heat and light may discolor or shrink your shoes. If necessary, stuff a couple of cloths in so that the shoe dries up in the right model. Do not use newspapers for this, because the ink can give off and then the entire inside of your shoe is covered with black marks. Then you can immediately put sneakers in the washing machine again ;-).
4. Be patient, it can take just 24 to 48 hours until your shoes are really dry! But how good they look … They seem like news! Long-life sneakers in the washing machine.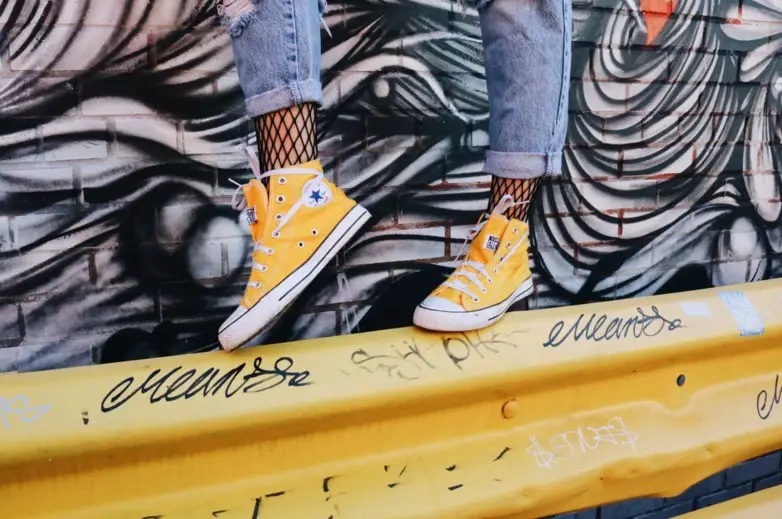 Stain champion
Are your shoes not very dirty or can they not be washed ? You can also remove stains locally with stain remover such as Biotex stain remover or Vanish Oxiaction. Apply the stain remover with an old toothbrush and carefully brush over the stain. Leave on for about 15 minutes to half an hour and then rinse well. Rinse really well, because some stain removers can leave bleach stains when they are not rinsed properly and you are probably not waiting for that.
Smells
But sneakers can not only lose their novelty due to stains, a few stink feet can also do something about it. And you can quickly get stink feet in a pair of sneakers, especially if you have been barefoot in them. Do you get stink feet quickly? Then don't go into your sneakers bare-footed, but buy short socks that don't go beyond the edge of your sneakers.
Has the damage already happened? Or did you get smelly shoes through your socks? No worries, there is something to do about it!
Outdoor air
First of all try to leave your shoes outside for a day, fresh air does a pair of (sweat) shoes good. Note that it will not rain, you are not waiting for wet shoes.
Freezing Do
all the tips about sneakers in the washing machine not help? Put your sneakers in a plastic bag and put them in the freezer for 24 hours. Many bacteria cannot withstand temperatures below zero, which means that you will have stink-free shoes again after 24 hours.
Sneakers in the washing machine? With these tips they look like new again